RDE:
Innovative exhaust system
With the RDE project (Reducing Diffuse Emissions), Aurubis is continuing its path of environmental protection with a sense of purpose and investing an additional € 85 million in better air quality at the Hamburg site.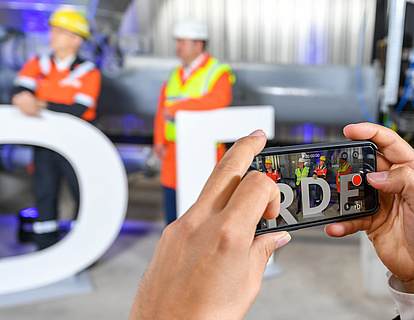 Largest environmental protection investment since the 1980s
Since 2000, Aurubis has invested over € 300 million in environmental protection at the headquarters in Hamburg alone and has continuously reduced particulate emissions. Thanks to the new exhaust system for the project Reducing Diffuse Emissions (RDE), the site will fulfill the high environmental protection requirements in the future as well. With an investment volume of € 85 million, the installation is the largest environmental protection measure in the parent plant since the 1980s – which means it secures the site's viability in the long term as well.
The innovative exhaust system with ultra-fine filters and state-of-the-art installation technology has been in operation since October 2021 and will lead to a significant additional reduction in diffuse dust emissions. As a result, we are setting global standards for environmentally compatible primary copper production.
Innovative and powerful
After a year and a half of planning, we constructed an impressive pipeline and exhaust system in 18 months during ongoing operation. Diffuse emissions from the primary smelter that previously couldn't be captured from a technical standpoint are now suctioned off, cleaned, and completely returned to the production cycle. The specially developed, needs-based control of the ridge turrets enables a level of digitalization in environmental protection that is unique in the industry, as well as efficient implementation with high volumes of exhaust air. Intermediate products from primary copper production will also be processed nearly emission-free in a new, closed building extension starting in 2022, and this hall will likewise be connected to the exhaust system. Factsheet Project RDE
"With RDE, we're setting new standards in environmentally friendly primary copper production and are expressing a clear commitment to sustainability as a result."

— Jens Jacobsen, Hamburg Plant Manager