Our
strategy
Metals are the foundation for progress. With the Aurubis strategy, we are providing a clear answer to how we will continue solidifying and expanding our position as the most efficient and sustainable multimetal producer in the world: as a high-performance smelter network with a strong core business and new drivers of growth in recycling.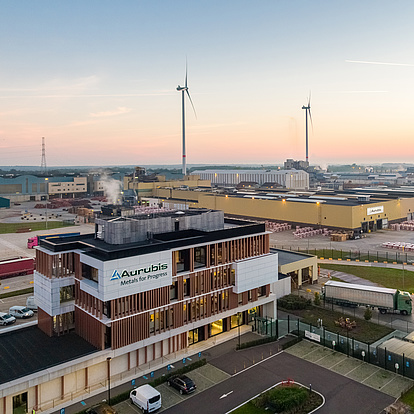 Securing, strengthening, and expanding the core business
Aurubis has a healthy, high-performing core business. By connecting our sites in a targeted manner and optimizing material flows, we want to make even better use of synergies in the Group. This will allow us to create the conditions for further growth.
---
Growth options
We are building up scalable recycling capacities in Europe and abroad to process complex recycling materials in state-of-the-art facilities. Further down the road, we want to expand our offerings to include battery materials and battery recycling.
---
Sustainability
Sustainable conduct and business activity are integral components of Aurubis' strategy. We have established targeted measures and KPIs to reduce emissions in order to make our production carbon-neutral well before 2050. Our production technologies and facilities already make a crucial contribution to responsible resource use, supporting the energy transition in addition to our products. 2030 Sustainability Targets
---
Aurubis has an eye on the dynamics of the market at all times. We're constantly on the lookout for opportunities, anticipating trends and acting accordingly. As a result, we've now honed our strategy and devised a roadmap for the next decade. Our core business in the areas of concentrate processing and recycling provide an excellent starting point for this.
We're taking action from a position of strength: Aurubis has unique metallurgical expertise and financial power. We have a diverse, efficient team setup, and we've already achieved a great deal when it comes to digitalization and automation. With the updated Aurubis strategy, we're now taking the next steps and establishing the basis for tomorrow's success today.
The pillars
of our strategy
Our core business is processing metal-bearing raw materials – concentrates as well as recycling materials. It is characterized by high productivity, cost efficiency, and effective sales outlets for our products. And because the world will need more and more of these metals that we produce in the future, the core business remains an essential component of our strategy. In light of global competition, we will secure and strengthen our core business.
For this purpose, we're continuing to expand the processing options within our Group-wide smelter network. We're executing projects in a targeted way at different sites to expand our capacities and boost multimetal recovery. The requirement for all projects and initiatives is that they have to contribute to our overall strategy.
We're pursuing new growth projects based on our core business. Recycling is a central driver of growth for us. Rising recycling rates, closed material cycles, and electric vehicles will reinforce the supply of complex recycling materials in the future. The surging demand for low-emission supply chains is a related aspect. That's why our strategic projects address precisely this development in order to tap this potential for Aurubis.
"We will continue solidifying and expanding our position as the most sustainable and efficient smelter network in the world."

— Roland Harings, CEO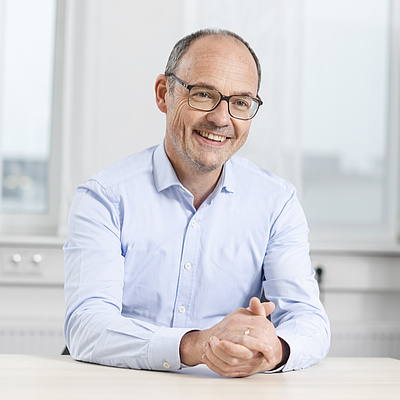 A discussion with
Dr. Thomas Sturm
Transparent and consistent, the Aurubis strategy offers concrete answers to how we want to sustainably achieve our growth targets.
What was the starting point for developing the new strategy?
We as a company have to be aware of changes at all times – particularly when it comes to the markets, raw material streams, and flows of goods, but also with regard to regulatory aspects. On top of that, there were internal changes such as the integration of the former Metallo sites and changes in the Group's management. As a result, we asked ourselves: what is the right path for Aurubis in the future in a constantly shifting environment? We reviewed, revised, and developed our existing strategy. Furthermore, we looked at the facts in detail, taking topics like recycling and sustainability, which have gained huge significance recently, more strongly into consideration.
How pleased are you with the result?
The strategy we had before was fitting. Our objectives are still fundamentally the same, too, they were just brought into stronger focus and substantiated with concrete projects. We can now give very precise answers about how we'll achieve our goals. The strategy is transparent and consistent, with clear analyses, hypotheses, and results. The extensive project landscape that arose in the process notably heightened our vision of the Group's future. Each plant in the Group now knows its path and its role. We've developed clear, measurable sustainability targets and will review every new project on the basis of these KPIs from now on as well.
What stood out during the development process?
The strategy will ensure our long-term, sustainable growth. This is in the interests of all stakeholders and shareholders. Every current and future employee will understand that working at Aurubis means being relevant to the company's progress and having clear future prospects. Openness and transparency were therefore important to us in the development process. We included a broad range of experts and managers – across divisions, sites, and cultures – and thus gained valuable ideas and insights that were incorporated in the strategy.
"The strategy is transparent and consistent, with clear analyses, hypotheses, and results."
– Thomas Sturm, SVP Corporate Development
Implementation and
sustainability
The updated Aurubis strategy is a precisely defined roadmap for our sustainable and profitable growth. It takes both external and internal factors into account. Priorities include digitalization in production and collaboration with business partners, in addition to strategic personnel management – recruiting and developing employees for the future. We have established clear responsibilities, resources, and projects that provide a strong footing for our objective of responsibly transforming raw materials into metals for an innovative and sustainable world.
One driving force of our future success is the higher level of awareness for sustainability in society and industry. We are aligning our business model even more strongly with the sustainability targets. We aspire to be carbon-neutral well before 2050. Based on binding targets and appropriate measures in the areas of the environment, social issues, and corporate governance, we are enshrining sustainability even more strongly in the entire company – in all processes and in all new projects. 2030 Sustainability Targets
Segmentation
In addition to refining our strategy, we also adjusted our segment reporting to achieve greater transparency. The most important change since October 1, 2021 has been the classification of our recycling activities in a separate segment, Multimetal Recycling. This includes the Lünen, Olen, Beerse, and Berango sites as well as the ERN and Cablo holdings. Our Custom Smelting & Products segment includes the smelters in Pirdop and Hamburg and our wire rod and flat products.
CEO Roland Harings sums up how the strategy will provide us with the roadmap for future success: "It will help us continue solidifying and expanding our position as the most sustainable and efficient smelter network in the world."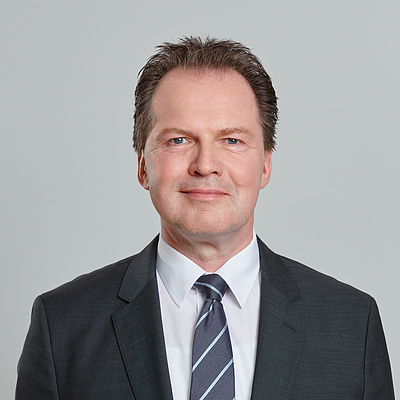 Three questions for
Christian Obst
Equity Analyst Baader Bank AG
Your job is to monitor companies and their development and to offer stock investment recommendations. What role does a company's strategy play in this?
A company needs an objective and a description of the path to achieving it. Employees, suppliers, customers, owners, and lenders should have an idea about why the company is developing as it is. This transparency is necessary to build and maintain trust and involvement in the company. Based on my knowledge of the company, I try to explain why the management, in a given political and economic environment, makes certain decisions that impact the results. While I'm at it, I make a distinction between the factors that can be influenced by the management and those that can't.
What makes a good strategy, in your opinion?
First and foremost, a good strategy is based on transparent overall conditions. In addition to the knowledge about its own capabilities, structures, and processes, the management should develop its strategy and a timeline in which its concrete goals should be achieved. Intermediate goals are required to keep things on track but don't necessarily have to be communicated in detail. A clear process should facilitate regular reviews of whether the overall conditions and the resulting measures are still pointing in the intended direction. Evaluating a strategy requires observation over longer periods. Quarterly reports can serve as orientation, for example in recognizing impending problems.
In your view, what developments need to be considered right now, especially for Aurubis?
The metal industry's supply flows from the mines and recycling. The underlying conditions for these two parameters are incredibly different. Mines and smelters also have to make sure that they operate their production with minimal environmental strain. The recycling of raw materials is playing a stronger and stronger role worldwide. Even in industrialized countries, the recycling rate is well below what's actually possible. It just isn't worth it in many places yet. But circumstances are changing: I would view recycling as a true megatrend. This is certainly a huge chance for Aurubis. It gets really exciting when companies expand into new regions or even new continents. Setting up and operating a profitable site under unfamiliar conditions is a challenge for the management that can't be underestimated.