Interview
with the
Executive Board
They're the key players when it comes to setting the course of the Aurubis strategy toward responsible, profitable growth and to strengthening the core business: CEO Roland Harings, CFO Rainer Verhoeven, and COO Heiko Arnold. A discussion about megatrends, sustainability, change, growth – and joy.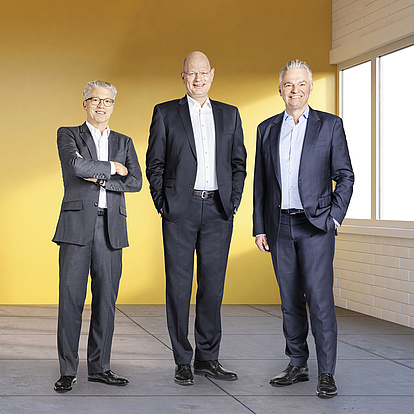 Roland, after assuming office as CEO in 2019, you announced early on that the Aurubis strategy should be reviewed. After many intensive months, the updated company strategy is finally finished and will now be rolled out. What were and are the most important driving forces behind the development?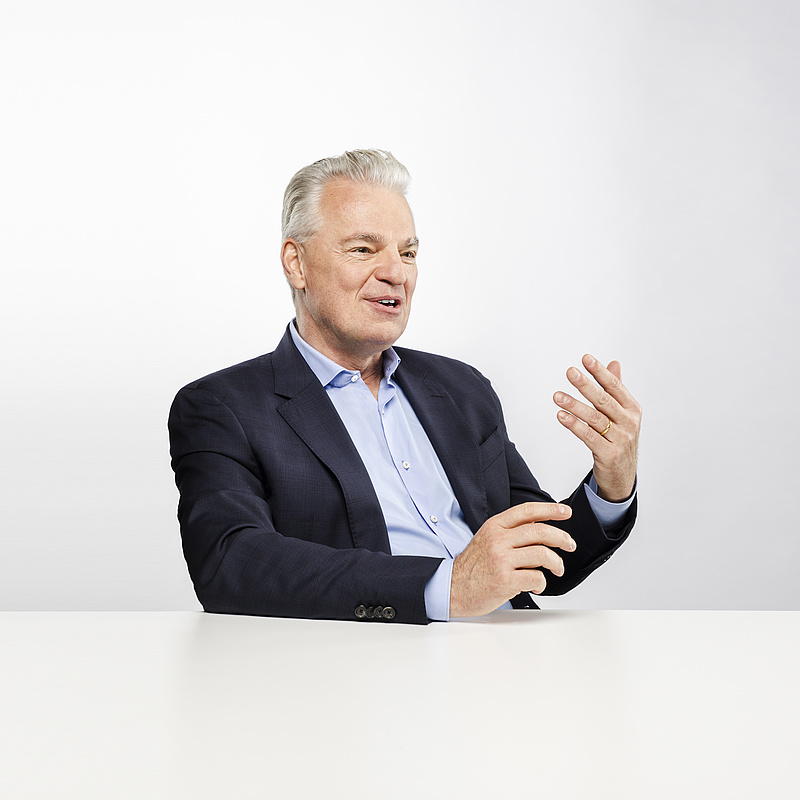 ROLAND HARINGS I'm someone who starts by taking a close look at everything and then critically questioning things very directly. Anyone who knows me knows this. The Aurubis strategy was essentially a good fit for the exciting environment that I encountered: a financially solid company that processes primary and secondary raw materials, a company with exceptional metallurgical expertise. Transforming raw materials into value, acting responsibly, being efficient – everything is as it should be. We're not exactly working in a market that chases fleeting trends. Our products form the lasting basis for a number of sectors, from the automotive to the cable industry.
When we look around, however, many things are changing quickly at the moment – whether in society, politics, or technology. Climate change, electric vehicles, new energy sources, sustainable business, and recycling – everything is interconnected due to global, digital networks. Aurubis makes a crucial contribution to nearly every one of these megatrends. In other words, they wouldn't even be possible in the first place without our metals.
€ 353 m
Operating EBT
(Earnings before taxes)
How can we now improve in all of these areas and make the move from good to great? By placing an even stronger focus on recycling – reflecting the importance of a functioning circular economy in Europe, which is both a political objective and a necessity. Or, to reference the evolution of our strategy and the strategic pillar "Growth," by choosing the right time to build the first recycling plant in the US – a market with enormous potential.
Strategy is one thing, but for employees, it's also about meaning and purpose. Why do I enjoy going to Aurubis every day? Because what I do is relevant for the world of tomorrow, for example.
15.6%
Operating ROCE
(Return on capital employed)
What is the Executive Board's most important task while guiding the Group into the future?
ROLAND HARINGS We, the Executive Board, have to identify precisely this potential, and leverage it for Aurubis profitably and at the right time. We of course receive support from many colleagues and external parties. It's all about teamwork. And as the Executive Board, we naturally obtain the support of the Supervisory Board for such strategic projects.
When developing our strategy, we presented and discussed work packages with the Supervisory Board time and time again because there are many individual project proposals behind the strategy. The fact that we've gotten the green light for everything so far illustrates their trust in our work. The extension of my appointment by five years is also a sign that the Supervisory Board approves of our path. After all, the strategy is first associated with the CEO.
"Aurubis is relevant and makes a crucial contribution to future trends."

— Roland Harings, CEO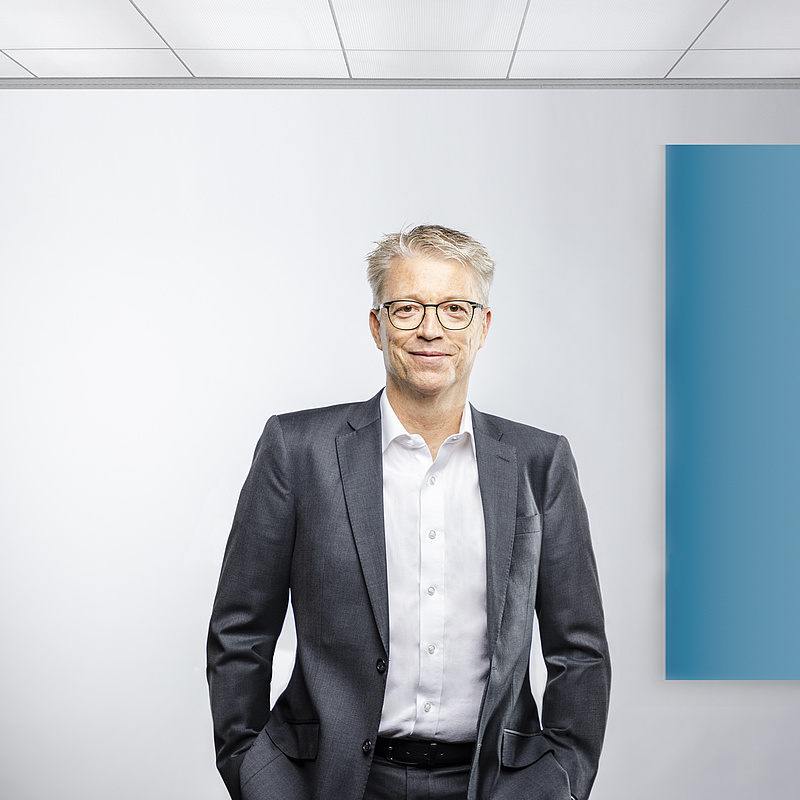 Does the strategy's focus on recycling now mean that primary raw materials won't play such a big role at Aurubis anymore, Heiko?
HEIKO ARNOLD On the contrary, processing raw materials – both concentrates and recycling materials – is and will remain our core business. It's important to strengthen both. We're investing intensively for this purpose.
It won't yet be possible to cover the huge demand for metals with recycling materials alone in the near future. Growth through construction or acquisition of more primary smelters isn't planned, however, because Europe doesn't need additional primary smelters.
At the same time, the amount of recycling raw materials is increasing massively in Europe. There aren't enough processing capacities for them yet, though. These complex raw materials are currently being exported to Asia to a large extent. As a result, we want to continue expanding the processing capabilities at our existing smelters to recover even more valuable materials – not just copper, but also more tin, nickel, zinc, and other metals.
We will continue to blaze the trail toward becoming a multimetal company. For me as COO, it's important that we also demonstrate excellent operational performance in the process. The key to profitability not only lies in our ability to process complex concentrates. Productivity, efficiency, and agility in production to optimally react to changes in available raw materials are much more crucial.
Due to the expansion of our smelter network, the sites are already working more efficiently and more digitally than before, for example in the processing of intermediates in the Group. It makes me proud to see how committed international collaboration is in a complex environment.
"We want to continue expanding the processing capabilities at our existing smelters to recover even more valuable materials."

— Heiko Arnold, COO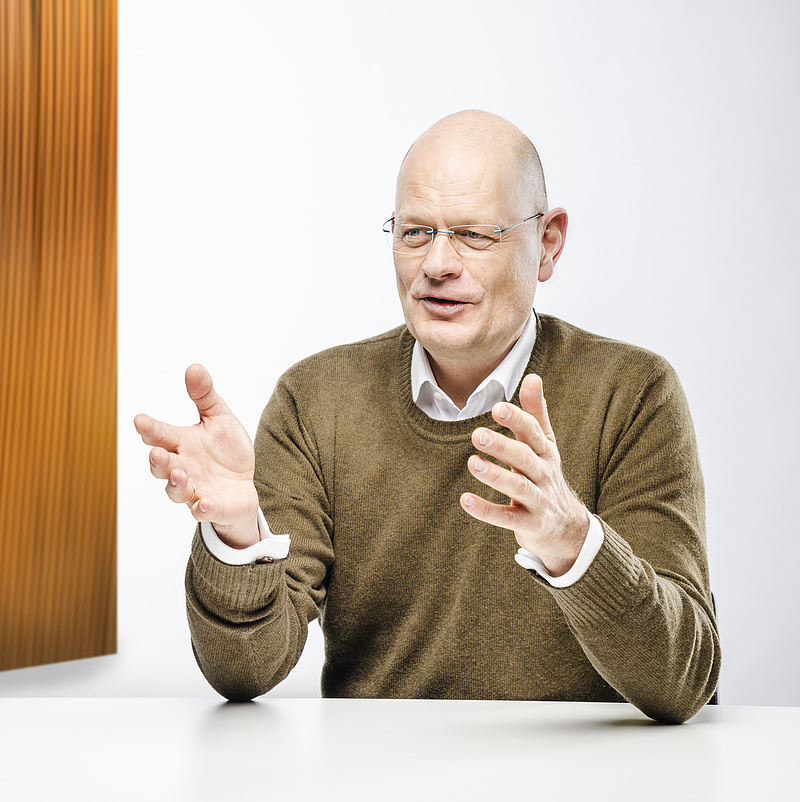 None of this works without investments. Aurubis wants to grow strategically. What does that mean from a financial perspective, Rainer?
RAINER VERHOEVEN We just reported the best result in the company's history so far. The good market conditions at the moment are playing a key role in this development, of course, leading to increased refining charges in recycling, a high metal result with increased metal prices, and very good demand for our products. Aurubis is therefore in a robust financial position, despite the uncertain times, which is the ideal prerequisite for our investment projects.
With equity of € 2,648 million, a net cash flow of € 812 million, and hardly any debt, we're able to finance our growth plans relatively easily. This was made evident with the acquisition of our recycling sites in Belgium and Spain in 2020, which we linked to a successfully placed Schuldscheindarlehen loan with an ESG component, amounting to € 400 million. It was also clear from large-scale environmental protection investments like those in Hamburg and the € 300 million investment in the new recycling plant in the US.
"Aurubis is in an extremely robust financial position, despite the uncertain times."

— Rainer Verhoeven, CFO
On the other hand, as CFO, I of course have to make sure that we're as efficient and cost-conscious as possible. Cost reduction measures such as our Performance Improvement Program (PIP) were therefore necessary, and are proving to be effective: we will squarely achieve our goal of a € 100 million earnings improvement in 2022/23.
We could improve our processes, however. In this regard, digitalization and automation are key enablers, as is sensible resource planning. We've created good conditions in this area as well, thanks to new structures and projects. And we still have a lot planned.
"Digitalization and automation are key enablers, as is sensible resource planning."

— Rainer Verhoeven, CFO
48 %
Equity ratio
€ 812 m
Net cash flow
Roland, sustainability is also an integral part of the strategy. Aurubis wants to continue expanding its leading role in this area, but it's undisputedly an energy-intensive company. Is this a balancing act?
ROLAND HARINGS Not at all! Sustainability has always been a fixed component of Aurubis' strategy. The social and political shift described means that the objective of acting sustainably is becoming more visible and important. And that's a very good thing. Business success and sustainable activity are not a contradiction in terms at Aurubis.
We're already the most sustainable smelter network in the world, and this is confirmed by external sources as well – through confirmation of our compliance with high environmental standards and our respect for human rights, for instance, but also through our outstanding ESG ratings. Then there are our own initiatives to reduce CO2 emissions and projects to use renewable energies at our sites. We want our production to be carbon-neutral well before 2050. 2030 Sustainability Targets
We're now going to tackle all of these projects together with our employees around the world. I'm looking forward to it!