Aurubis Modular Recycling System:
Growth through recycling
With a modular system to develop new recycling plants, Aurubis can set up new sites quickly and flexibly in the future. This will begin with a new secondary smelter in the US.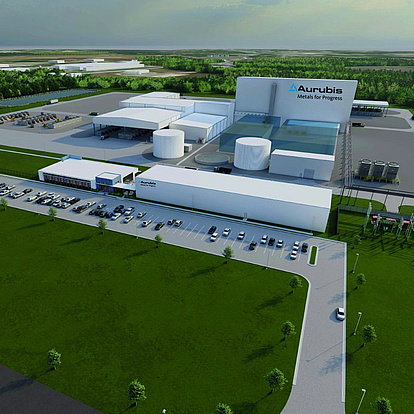 Flexible setup, integrated processes, andlong-term value creation
Global market trends such as digitalization, the increase in renewable energies, and more sustainable business are driving the circular economy and therefore the reprocessing of valuable materials containing metals. We are taking advantage of this at Aurubis with a sense of purpose in order to significantly expand our recycling capacities in the years to come, penetrating new markets in a targeted way at the same time. The starting point is the idea of a "construction kit" system in which the individual stages of the recycling production process can be built in a variable fashion. This will enable us to efficiently and flexibly create new capacities with technologies available on the market, at little risk, and to integrate them into the broader smelter network.
After implementing another key phase of our multimetal strategy with the acquisition of Metallo, the next step is to strengthen our recycling activities through plants that we can develop in a modular approach – and thus flexibly – in line with our needs. In these plants, too, we will rely on technologies that are well-known in the market to recover valuable metals from scrap coming from the automotive or telecommunications sectors – such as sheathed cable and printed circuit boards (PCBs). This targeted expansion of our capacities will secure our position in a market with strong growth potential early on. After all, PCBs are found in nearly every electronic component and accumulate in large volumes because of the often very short life cycle of modern technical devices such as smartphones and laptops.
In our future recycling plants, five modules (or the five stages of the recycling process) will be able to be used individually or combined, in accordance with the "construction kit" principle.
Flexible setup, integrated processes, andlong-term value creation
We will position the new recycling sites according to the recycling raw material markets. This will help us optimize transport costs while protecting the environment. The module selection at each new site will be oriented to the current processing capacities in the Aurubis Group. The planned models differ in particular with regard to the extent that recycling raw materials are processed before they are fed into the existing smelter network for refining. We want to seamlessly integrate the new sites into our network so that we can process as many intermediate products as possible internally along the entire process chain.
Thanks to the modular setup of the new recycling facilities, we're in a position to react flexibly to the market and demand, returning more and more valuable materials containing metals to the resource cycle.
"With this investment, we're sending a clear signal for sustainable growth, and we'll become a forerunner for multimetal recycling in the US as well."

— Roland Harings, CEO
Sustainable growth through expansion into the US recycling market
We will build the first secondary smelter specializing in multimetal recycling in the US. The start of construction is planned for mid-2022. Factsheet Aurubis Richmond, USA
A total of 6 million t of recycling material containing metal accumulates in the US each year. According to expert estimates, the market there will grow an average of 4 to 6 % annually. A rise in awareness for sustainability issues and increasing regulations for resource-efficient business activity are leading to an ever-mounting accumulation of valuable materials in the US as well, materials that are currently transported to Asia for processing. We're taking advantage of this huge opportunity to enter an attractive, fast-growing market as a forerunner, recycling valuable materials containing copper, nickel, lead, and precious metals locally in the US. This will ultimately broaden our international integrated smelter network in the future.
~300
Investment volume (€ million)
We're very familiar with the features specific to the US since we've been operating a plant in Buffalo since 2011. Following extensive analyses and after carefully reviewing different options, we decided on Augusta (Richmond County) in the state of Georgia as the site for the plant, where we met strong support from local political decision-makers.
The first multimetal recycling plant in the US will be built on a section of a 600,000 m² property in accordance with the highest environmental standards, with enough space for future capacity expansions.
Seamless integration into our smelter network
We plan to fully ramp up production in 2024. About 100 new experts will then process PCBs, shredded metal, and other recycling materials containing metals into around 35,000 t of blister copper each year with our market-specific technologies. We will process this intermediate product into different valuable metals at our European smelter sites to a large extent, and extract metals such as tin, lead, and zinc, which we will also return to the resource cycle. Industry needs the recycled high-purity metals to manufacture electric vehicles, wind turbines, and solar plants, for example.
The investment of about € 300 million in our first US recycling plant will pay off in multiple ways. It will contribute to ambitious climate protection goals and to conserving natural resources across borders in the EU and the US. We expect an annual contribution to EBITDA of approximately € 80 million beginning in fiscal year 2025/26.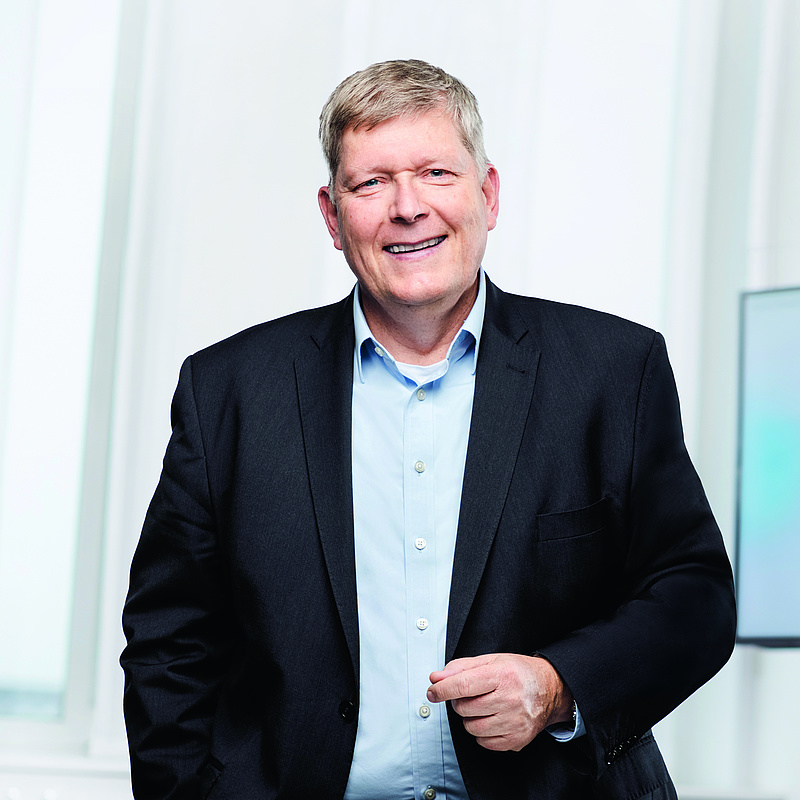 "With the decision for a US recycling plant, we're in the right place at the right time."

— Hans Rosenstock, Project Manager Corporate Development