The Lünen tankhouse:
More capacities thanks to modernization
To produce high-purity copper, anodes with 98.5 % copper content are used to produce cathodes with 99.99 % copper content in the tankhouse. The tankhouse in Lünen was constructed in the mid-1960s. As a result, many parts of the facility already had 30 to 50 years of operation behind them.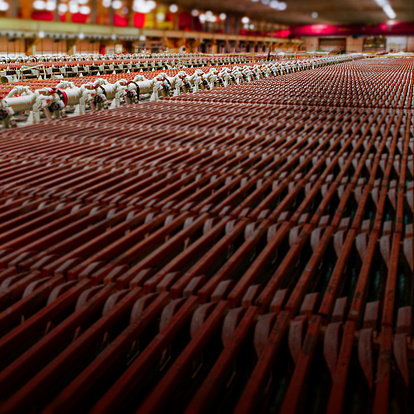 80
Employees are part of the
tankhouse team in Lünen
924
Cells in five sections are part
of the tankhouse in Lünen
Renovation during ongoing production
Aurubis is currently modernizing the facility for about € 60 million so that it can be used even more efficiently in the future – for instance to process heavier anodes. This will boost capacity by roughly 10 %.
All sections of the tankhouse are being overhauled one by one until 2024 by successively tearing down and rebuilding the cells – during ongoing production. This means that 80 % of the facility's capacity is in use at all times.
Potential for production expansion
Roughly 210,000 t of copper cathodes will be able to be produced in Lünen annually following the modernization. Each second, that's the amount of pure copper required for about 300 smartphones. Because the plant in Lünen uses recycling raw materials, nickel is recovered first and foremost in addition to copper. We also draw gold, silver, and other precious metals out of the anode slimes within our smelter network.